Guide bites
Captain Mike Manning (727) 243-8918: Capt Mike says he has found a fair number of larger trout working around the spoil islands in St. Joseph Sound. Drifting and jigging or using live shrimp produces plenty of 18-20 inch fish, as well as a few oversized trout. Many fish are found in deeper potholes. Snook and reds are on out points all along the coast, as the still warm gulf means there is no need for them to retreat to their usual warmer haunts in the backwaters. The pompanos normally inside the outlet channel of the Anclote power station have ventured onto the flats next to the power station, where there are also trout.
Captain Mike Senker (352) 584-6297: Capt Mike reports good offshore fishing. His anglers fished in 35 to 40 feet of water and were limited to mangrove snappers 14 to 20 inches long. He uses live shrimp on a Spro live bait hook. Fishing in the 60ft depths as the cold front approached last week produced 62 gagged groupers and large triggerfish. Gags exited the season on Jan. 1, so they all came back. They also landed three red grouper, although not all of them reached the minimum legal size. Capt Mike reports that the water is a little murky offshore with lots of suspended particles.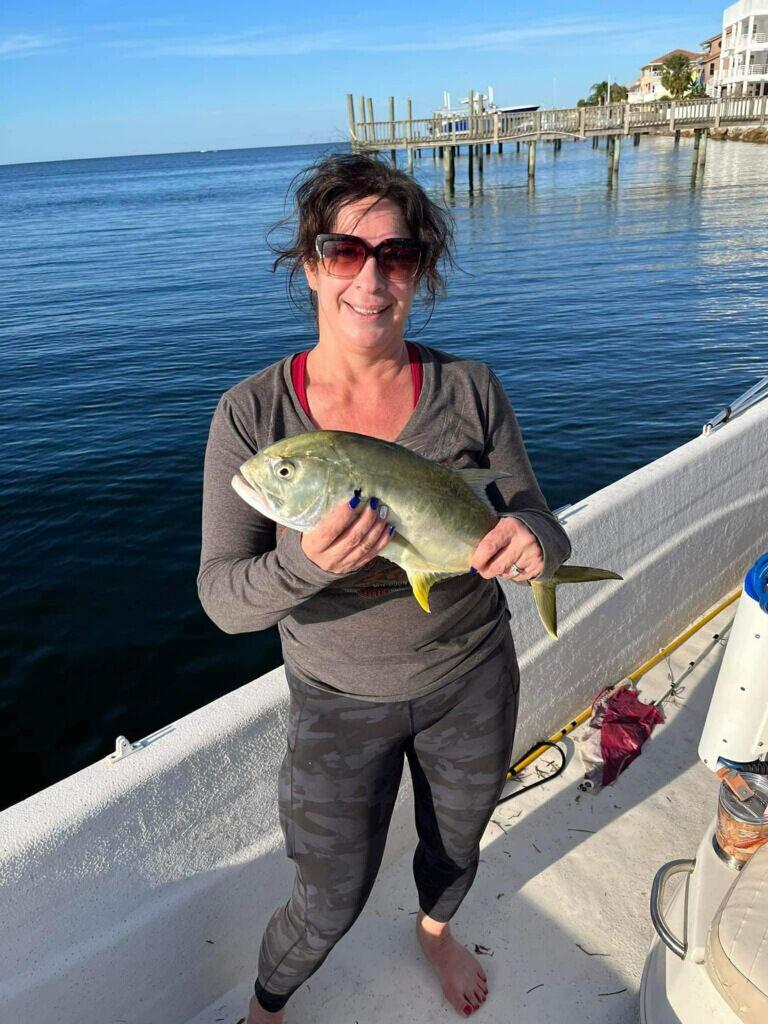 Overview of the Pasco & Pinellas hardware store
Tarpon Trading Company (727) 937-1488: Larry reports that his anglers found decent action on silver trout around Three Rooker Bar south of Anclote Key. They also connect with them to fish on the east side of the channel in St. Joseph Sound. Shrimp is the best bait. A few silvers are caught in deep water off the north end of Anclote Key, and those fishing before dawn in the Anclote Powerhouse discharge channel do well on spotted sea trout. Once the sun is up, the trevallies come in. An angler caught a massive 25-inch bluefish here, an unusually large fish for this area. There are a few trout that are caught on the causeway in Fred Howard Park, as well as sheep's heads under the bridges.
One-stop bait and tackle (727) 842-5610: Joe says there are lots of trout and lots of reds around. The fish are distributed from Honeymoon Island north to Hudson. They work near flooded mangroves and rocks and on oyster beds when the water is high. Areas near creek mouths seem to be best. A few cobia were taken from the embankments of the discharge channel of the Anclote power station. The pompano and permit sting has been slow for those fishing from shore or the park pier there.
The Rusty Bucket (727) 645-6598: Bill reports that a good number of goldfish are caught north and south of the Cotee River on cut bait, crabs and shrimp. Thanks to the warm water this year, shoals of sardines have settled on the flats off the Anclote power station and the fishermen use them to take snubs, which are found on the banks and points exterior. Many large trevallies are schooled with fish up to 7 pounds in common, along with a few larger ones. Gulf Harbors canals produced some small tarpon.
Armed Fishermen (727) 945-1808: Captain Griff says offshore anglers have been focusing on hogfish and bass since the gag grouper season closed. They also tagged cobia on the artificial reefs. On land, the pompano bite slowed at the outlet of the Anclote power station, although trout were landed, as well as sharks at night. A number of reds were landed by fishermen working in the channel spoils at both ends of Gulf Harbors.
Cooper Shrimp Shack (727) 868-8736: Bill reports that Hudson anglers get reds and sheepsheads in residential canals using shrimp. A few find black drum in the canals, a fisherman bagging a few fish with a pair of reds. Early last week, anglers found schools of mackerel on the deep shelves off Hudson. Offshore fishermen report pigs on offshore rocks.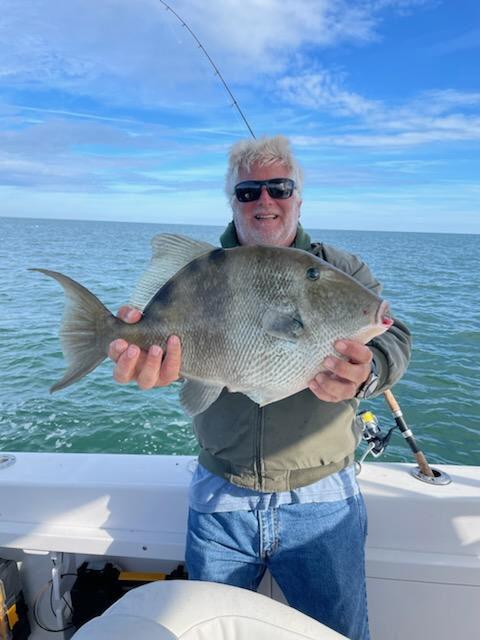 Hernando Fishing Tackle Shop Overview
Dixie Lee Bait (352) 596-5151: Mark says inshore anglers over the past week have been slamming trout on the grassy plains along the Hernando coast. Most of the best catches were made in 2-4 feet of water. Plastic flukes were a good bait among the artificial ones, with live shrimp or pinfish under a good choice among the live baits. The reds were numerous, the fish going up on the rocks and the oyster bars with the rising tide. They will take gold spoons, live shrimp, pinfish or cut bait. The gulf's unusually warm waters mean that there is a fair amount of snook on outer points, in channels and around creek mouths. Several anglers have reported getting tangled with them recently. Offshore anglers who frequent the store continue to report trevally catches. In January, the fish typically passed on their journey to warmer southern waters, but this year the warmer-than-usual gulf supported the schools of offshore baitfish that the kings feed on. Most scrambled kings, but others covered more water dragging spoons and corks at around 7 knots. Most of the action took place in 30 to 50 feet of water.
Hernando Beach Bait and Tackle (352) 610-4315: Sven reports a pretty good rockfish bite. Fishermen from rocky points, oyster bars and mangroves catch beautiful fish with live and artificial bait. Jenkins Creek Fishing Pier has had some decent action lately. Anglers fishing early in the day caught redfish and a few black drums and mangrove snappers. Trout were also landed there, with live prawns under a float later in the day, the pattern that works. Aripeka Bridges dropped a few small mangrove snappers and sheep to fishermen using live and frozen shrimp. A few pompanos have appeared on Hernando's apartments. Jigs fished around the mottled grass and sandy bottom are the most effective method of catching them. Offshore anglers do well on mangrove snapper and a few hogfish in 15 to 35 feet of water. The larger sheep begin to congregate around the rocks and structure in preparation for spawning. Anglers find them on a rocky bottom in 12 to 15 feet of water. Fishing over the weekend at 100 miles in 150 to 200 feet of water, Sven reports that the boat did well on red grouper.
Mary's Fishing Camp (352) 597-3474: Bell says mullet fishing at the fish camp has been lackluster over the past week. A few chilly nights have pushed some more mule back to camp, but she thinks the unusually warm winter we've been having is generally slowing down. Two fishermen landed redfish behind the camp store. Live or frozen shrimp is what usually takes them.