It wasn't the fishing trip of a lifetime, and it wasn't meant to be. It was meant to be a winter escape from the cold Charleston weather and enjoy visiting a place my wife and I had often heard of, the Florida Keys.
The plan was to make a mandatory visit to crowded Key West and the famous Southernmost Point buoy (a few years earlier we had visited the easternmost and westernmost points of the Lower 48 in Maine and Washington, respectively). Watch the sun set over Mallory Square. Take a guided kayak tour through the mangroves where we saw Jimmy Buffett's old house, nurse sharks, tropical colored fish and a few snakes. Enjoyed the kitchen. The typical tourist experience.
The fishing part was just a bonus and made me want to come back with more time.
When planning the trip, our son, who regularly vacations in the Keys with his family, insisted that we bring fishing gear. So I found room in our little trailer for a few rods and reels and a tackle box. My son insisted "at the very least you can go bridge fishing".
My interest in bridge fishing was piqued when we traveled south across one of the many bridges and saw a fisherman rearing up on a sturdy surf fishing outfit, probably snagging a monster trophy fish, so as traffic slowed to watch.
After arriving at the KOA in Sugarloaf Key, we took the bikes for a ride to nearby Cudjoe Key and met our first bridge fishermen and I did a little reconnaissance during my visit with Brock Brown, a host from the upstate New York KOA camp that was shocked at the lesser gray snapper, also known as the mangrove snapper. He cast his line between the main deck and the pedestrian deck, using live shrimp as bait.
"They have to be 10 inches. So we can top up our grocery bill," he said, measuring one he was able to add to his cooler. Brock showed me some pictures of various fish he had caught there, including a four-foot barracuda.
I was hooked. The next day I drove north towards a fishing tackle store I had noticed earlier with the intention of buying some fresh shrimp. It was closed. After driving several miles looking for other places to buy bait, I gave up and returned to the campsite with other activities on the agenda. But I checked at the campground marina first to see what kind of bait they kept. I was shocked to learn that they had live shrimp and would be getting a new supply the next day.
When I got back to our campsite, I shared the news with a few neighboring campers who happened to be visitors from South Carolina, David and Mary Godwin from Pawleys Island. They were getting ready to launch their kayaks to fish, and I received a fishing report that evening. David said he went to buy shrimp and the store was almost sold out, so he bought whatever they had.
"We had a great time. We caught a lot of fish, nothing too big, but we had a great time," he said.
I bought a couple dozen live shrimp and headed down to the deck. There were several other fishermen and a few pelicans scattered around the deck as I picked out a spot. My deck gear consisted of light spinning rods and I fished 1/0 circle hooks on a Carolina rig with a light sinker.
I dropped my bait down, leaned the rod against the deck railing and started baiting another rod. But before I could hook the prawns, my first rod started bouncing, indicating a feeding fish. I put the hook on and started reeling in one of the aforementioned gray snappers.
Over the next two hours I managed to catch 15-20 fish, mostly gray snappers but a few yellowtail snappers (too small to keep) and a small mackerel like fish that caught me fins and drew blood as I tried to release it. A few of the gray snappers would have reached the minimum of 10 inches.
A Texas man fishing next to me caught a snapper, and he also caught a fiery crevalle jack and a colorful parrotfish.
My bait and fishing time ran out around the same time, so I packed up my gear, headed back to the RV to shower and get a fishing report from the Godwins, who caught more than fish, including a very nice grouper from their kayaks.
There was one more thing to check on our Keys vacation, find endangered deer on Big Pine Key. A 6 point buck that is no bigger than a Labrador retriever and probably half the dog's weight is a sight to behold.
I can understand why so many friends love traveling to the Keys. I'm pretty sure I'll come back with better gear and more time to enjoy the experience.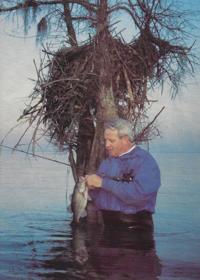 Wahoo SC-Series
The Captains Meeting for the 2022 South Carolina Wahoo Series (scwahooseries.com) will be held from 1-4 p.m. on January 29 at Skull Creek Dockside Restaurant, located at 1 Hudson Road, Hilton Head Island. The fishing days for the tournament are from February 11 to April 17, with the awards ceremony on April 23.
Entrants can fish for three days, weighing one fish each day, with their two heaviest fish counting towards the overall grand prize. First place will pay $40,000.
Last year's tournament attracted 180 teams and was won by Mas Pescado, a 42-foot Freeman owned and operated by Freeman Boatworks founder Billy Freeman of Mount Pleasant. Mas Pescado's two wahoos weighed 164.8 pounds, topped with an 84.8-pound catch. Including optional tournament tiers, Mas Pescado pocketed $72,000.
Reel Happy, managed by Mark Huggins of Aynor, finished sixth overall at 129.4 pounds but took home $38,000 for catching the biggest wahoo of the tournament at 98.2 pounds.
SALTT fishing seminars
The Student Angler League Tournament Trail (salttfishing.com) holds monthly fishing seminars on the second Tuesday of each month from 6-7 p.m. at Harvest Church, located at 3552 Old Kings Highway, Murrells Inlet. Speakers include charter boat captains and local fishing experts.
SALTT will also be hosting a bass fishing seminar from 9 a.m. to 12:30 p.m. on February 19 at J&K Outdoors, located at 1301 Highway 501 East Street in Conway. The seminar is limited to 50 participants and pre-registration is encouraged. Tickets are $11 and each student angler receives a $10 store coupon. Reservations can be made at salttfishing.com/seminar-bass.html.
SALTT is a training ground for students in grades 1-12 interested in competitive fishing for rockfish or largemouth bass. Three fall tournaments and three spring tournaments are scheduled at Carroll Campbell Boat Landing in Georgetown. SALTT also hosts the annual Brody Bates Youth Redfish Open Scholarship Tournament to be held April 2 this year at Buck Hall Landing in McClellanville.
American yacht club
America's Boating Club Charleston will be holding boating safety classes February 12 and March 12 at 1376 Orange Grove Road, Charleston. Classes start at 9 a.m. and end around 4 p.m. Successful participants are awarded the SC Department of Natural Resources Boater Education Card. Cost is $25 for adults and youth 12-18 are free. Call 843-312-2876 or email [email protected]